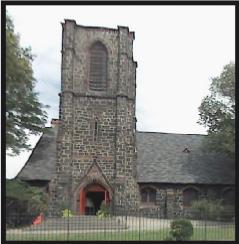 2015-2016
Concert Season


UPCOMING CONCERTS



December 13, 2015

Olivia Smith, soprano
Christopher Bradshaw, piano
Mozart, Brahms, Britten


January 17, 2016

Stefanie Izzo, soprano


February 21, 2016

Operatic Favorites
Anna Noggle, soprano
Christopher Bradshaw, piano


March 13, 2016

Arin Maisky, organ


April 17, 2016

Nate Festinger, piano


May 15, 2016

Bones of Contention
Brass Ensemble
Jeremy Kempton, tenor trombone
Alex Somer, tenor trombone
Jacob Elkin, tenor trombone
Nick Healy, bass trombone





PAST CONCERTS


September 15, 2013

Martin Söderberg, piano
Music of Spanish Composers


October 20, 2013

500 Years of Music
for Guitar
Peter Griggs, classical guitar


November 17, 2013

Stefanie Izzo, soprano
Luis González, baritone
David Taubman, piano


January 19, 2014

Nelson Ojeda Valdés, piano
Luis González, baritone


February 16, 2014

Chamber Music Concert
Akiko Hosoi, violin
Laura Ha, violin
Alyssa Hardie Beckmann, viola
Midori Sadamatsu Witkowski, viola
Julian Schwarz, cello
Andrew Trombley, double bass
Christopher Bradshaw, piano


March 16, 2014

Filip Pogády, violin
Peter Fancovic, piano


May 18, 2014

Children's Program
Nelson Ojeda Valdés, piano
Christopher Bradshaw, piano


October 19, 2014

Quartet for the End of Time
Chamber Music Recital
Catherine Lawlor, violin
Tony Park, clarinet
Elizabeth Kim, cello
Markus Kaitila, piano


November 16, 2014

The Studio of Nelson Ojeda Valdés
presents
A Concert of Chamber Music


January 18, 2015

Rebecca Jordan, flute
Nelson Ojeda Valdés, piano


February 15, 2015

A Night at the Opera
Anna Noggle, soprano
Victor Starsky, tenor


March 22, 2015

Through Her Eyes:
A Celebration of Women in Music

Stefanie Izzo, soprano
Catherine Frank, piano


April 19, 2015

The Three B's

Christopher Bradshaw, piano


October 18, 2015

Lynette Carveth, soprano
Nelson Ojeda Valdés, piano
Spanish Music
for Voice and Piano


November 15, 2015

Chamber Music
Students of
Nelson Ojeda Valdés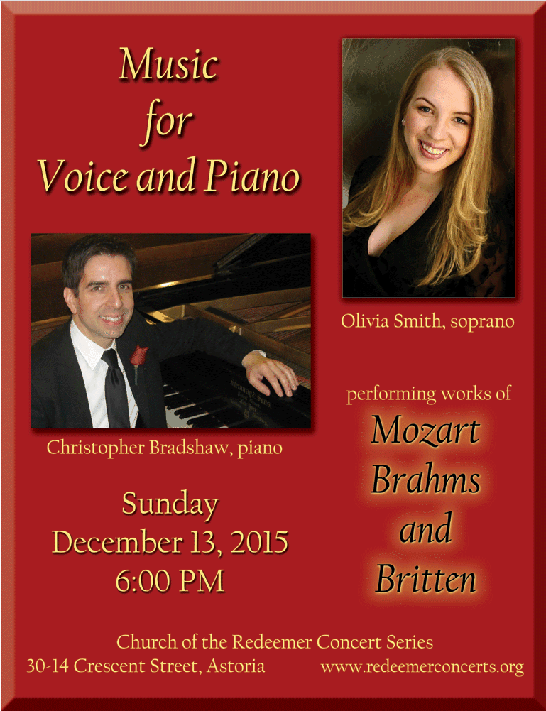 After growing up with the Gingerbread Players of St. Luke's Church,

Olivia Smith

went to LaGuardia High School for the Performing Arts where she graduated with the senior award for Outstanding Vocalist. She then studied with Jonathan Retzlaff at Vanderbilt University's Blair School of Music, where she graduated with honors in Operatic Performance. At the VISI Songfire Program in Vancouver, Canada, Olivia played Emme in the original production of Seaworthy. She has performed in the Westchester Arts Festival, the AIMS Lieder Festival in Graz, Austria, and has been a Studio Artist in the Sherrill Milnes VOICExperience Festival in Savannah, Georgia. Prior roles include Casilda (The Gondoliers), Fiordiligi (Così Fan Tutte), and Bea (Three Decembers) while working with composer Jake Heggie during his residency at Blair. She has sung Papagena (Die Zauberflöte), Drusilla (L'incoronazione di Poppea), and Zerlina (Don Giovanni) in opera scenes with the New York Lyric Opera at Carnegie Hall and The Symphony Space. Olivia's concert work has included the Lord Nelson Mass, Ein Deutsches Requiem, Ceremony of Carols, and a John Cage Tribute Concert with the Merce Cunningham Dance Company. She has performed in Master Classes most notably with Roger Vignoles, Barbara Bonney, Gabriele Lechner, Sherrill Milnes, David Friedman, and Margo Garrett. Olivia is the soprano soloist at St. Lukes Episcopal Church and is coaching with Susan Caldwell. She is currently studying with Beth Roberts in the Masters of Music program at Mannes Conservatory in New York City.

A native of Monticello, New York,

Christopher Bradshaw

graduated with distinction from the University of North Carolina at Chapel Hill with a Bachelor of Music degree in piano performance. He then pursued his graduate studies at the University of Cincinnati's College-Conservatory of Music, earning a Master of Music in piano performance, and completing the requirements for doctoral candidacy. He has performed at chamber music festivals in Cincinnati, Ohio, and in Morges, Switzerland.

Christopher maintains a private studio as well as teaching piano for the Afterschool Programs at Little Red School House and Léman Manhattan Preparatory School. He accompanies and performs with the Astoria Symphonic Choir, and the glee clubs at the Buckley School. A member of the Bradshaw/Parker Piano Duo since 1992, he has performed a wide variety of four-hand and two-piano repertoire in the United States, Spain, Austria and Germany. In addition to solo and duo piano performance, he enjoys collaborating with vocalists on the art song repertoire, in part due to his interest in and study of the Spanish, French and Russian languages. He has served as Musical Director for the Brooklyn Theater Arts Project's productions of Joseph and the Amazing Technicolor Dreamcoat and Cabaret, at the Players Theater in Greenwich Village. He currently serves as artistic director for the Church of the Redeemer Concert Series in Astoria, Queens.